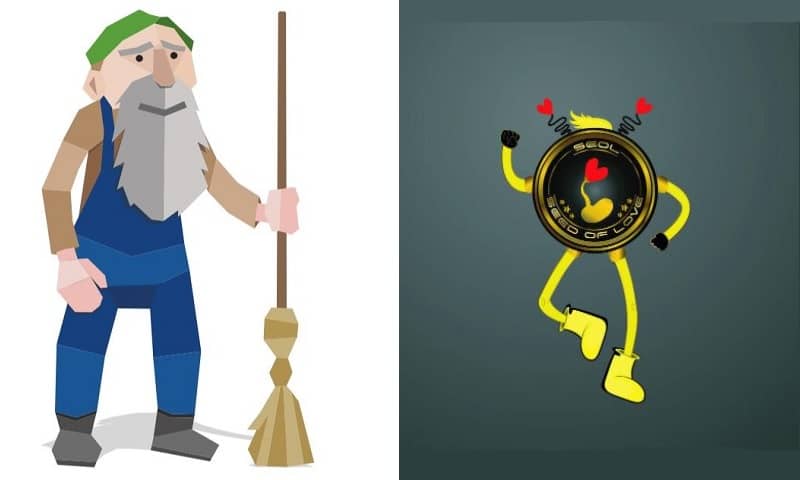 We are proud to announce our sixth overall buyout: Seed Of Love or SEOL an ERC20 project. The community has been waiting for a buyout for a while now, and we hope this one gets others rolling this year. Ultimately, we would like to make CoinJanitor as relevant during bull markets as it has shown to be during bear markets.
About SEOL
Seed Of Love aimed to simplify transactions for charity organisations, fundraisers, or anyone else looking for easy conversion from crypto to fiat.
The dev was developing an Ethereum-based platform that could perform the following tasks:
Enable charity organizations and fundraisers to receive donations via cryptocurrencies.
Provide a range of services to create a one-stop-shop for charities and fundraisers.
Integrate a range of services such as internal exchange to convert cryptocurrencies.
Enable an explorer to track donations.
Offer a built-in wallet.
Integrate easy payment options using Paypal, Payoneer, Skrill, and other such fiat services.
The E-wallet would include a p2p trading system allowing users to convert any cryptocurrency to the native SEOL token at spot rates.
Buyout Details
Just as with our previous buyouts – RxEAL, LENS, UNI and RELAY – we don't have a blockchain to process because SEOL is an ERC20 token. We will proceed to integrate SEOL users via swap. With the founder's tokens, the Ethereum burn address – 0xfEc778C1ba9c19cd986D69cFC9C35Fd852F96adC – already contains 63.2% of all SEOL tokens created.
CoinJanitor to SEOL Exchange Rate
We will apply the same method on this swap than the one we used for LENS. After establishing a swap deadline, all holders will have 3 weeks to contact us and send their tokens to the burn ERC20 address above. After that, we will proceed to allocate the full buyout budget of 40,000 JAN proportionally to all the users who reached out to us before the deadline.
To determine the exchange rate, we will divide 40000 JAN by the total amount of SEOL tokens we receive until the deadline.
SEOL Dev Holdings
The dev indicated that he held most of the tokens and that many of the holders are airdrop holders. We will proceed to swap everyone out according to the rules stated above without distinguishing between airdrop holders or regular holders.
Instructions For SEOL Users Swapping Into JAN Tokens
If you are a SEOL holder, please email us at support(@)coinjanitor.io to begin the swap process.
Please state the following on your email:
How many SEOL tokens you have
Which address(es) you hold them in
We will reply with our burn address
Send your SEOL tokens to the burn address provided above BEFORE THE DEADLINE
Once the deadline passes, we will be able to calculate the exchange rate
We will inform you about it via email and we will transfer the corresponding amount of JAN tokens to the public address you transferred SEOL tokens from
SEOL is delisted so no one should have an exchange-based ERC20 address to send from anymore
SEOL Buyout Deadline
We are giving the SEOL community a 3-week window to complete steps 1 through 4 (see above). We are using the Telegram channels to communicate with the community, and the swap deadline will be Wednesday May 12th, 2021.
SEOL Holders: Welcome to CoinJanitor!
To all the members of the SEOL community, we welcome you to CoinJanitor. We hope you find our project useful and we hope you use all the resources that other CoinJanitor members are already enjoying. There are multiple benefits of joining our budding community, and we are looking forward to hearing from you.
If you're new to the CoinJanitor project here is a short explanation of what CoinJanitor does: