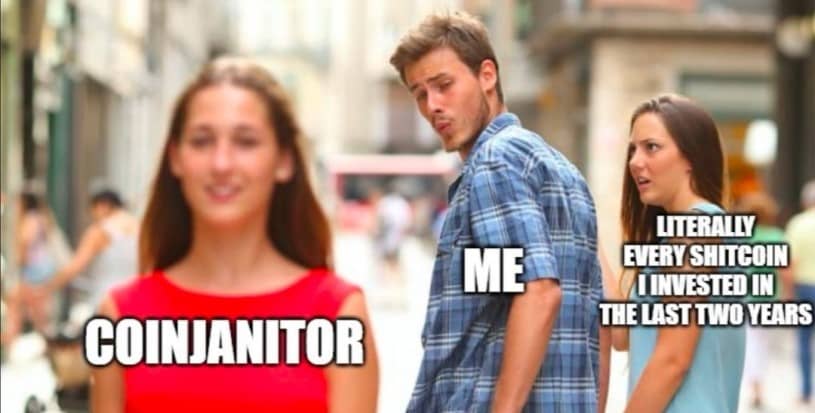 Buying out deadcoins is a serious endeavor. That doesn't mean we cannot have a little fun here and there doing it. Our team decided to ease into the holiday mood and have some fun with a meme contest during December 2019. Community members put their creativity to work and used one of their referred images to communicate what they think about CoinJanitor. The results were very funny.
The CoinJanitor Meme Contest Prize
Of course, that, besides all the fun we had with this meme contest, we had to make it competitive. We launched this competition with a first and second place prize for 2 of the best memes our community members shared with us on Telegram:
The winning meme would get 1,000 JAN
Second place prize would get 500 JAN
The results are finally in.
Winning Memes
The first-place prize goes to @Evertdv for this simple, yet masterful meme – yes, it is self-aggrandizing on our part to pick this one, but it was too funny to let it pass: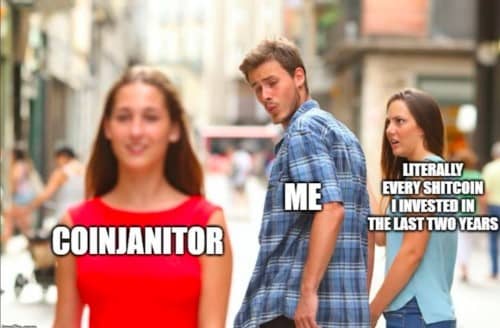 @Nycziecskoi got the second-place prize for the originality and for all the humor that makes light of the serious situation that deadcoin holders are in: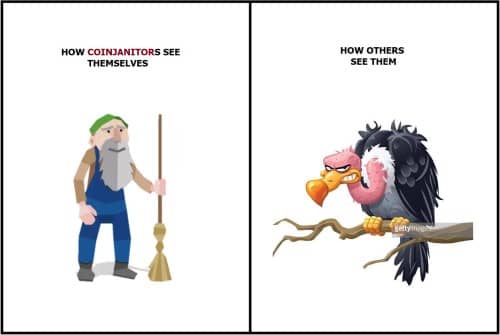 We also have a special mention. This meme is a great promotional piece with a clever message, so we decided to award the creator 300 JAN for the wonderful effort:
We have communicated with the winners to let them know they won. In the meantime, we will be sharing more of the memes with you here and on Twitter.
CoinJanitor Giveaway
Through this meme contest we found out that we can have fun and spread the word about our project further. The community has been instrumental in our success so far, so we decided to expand it as much as we can to spread our message even further about cleaning up cryptocurrency and swapping failed crypto tokens. To do so, we will be doing a giveaway. All community members as well as those who are not community members yet, are eligible to participate.
We are determining the prizes and giveaway rules but we're thinking about the following for prizes:
The first prize will be 100,000 Sats
Our second prizewill be 2,000 JAN tokens
For the third prize we will be giving 1,000 JAN tokens
Let us know your thoughts on Twitter or on Telegram and if you're new to the CoinJanitor project here is a short explanation of what CoinJanitor does: