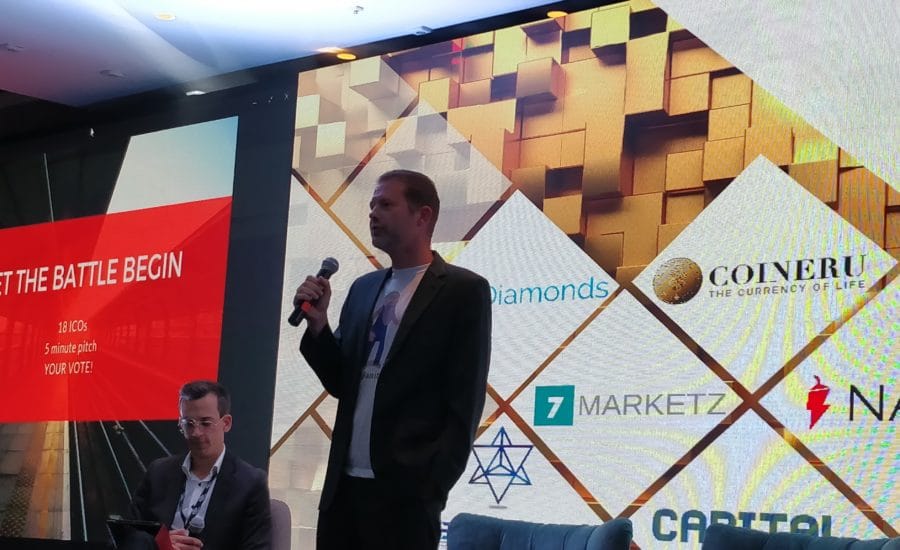 The weather in Cyprus on May 9th and 10th was superb. It was warm outside, and the most perfect Mediterranean sun showered the tourists who were there for leisure. Of course, the CoinJanitor crew was there to work hard in a blazing hot environment, duking it out with another 73 ICOs for a chance to win the ICO Battle at the iCoin Summit. The battle was epic, and in the end, CoinJanitor came in fifth out of 74 participants. A great result that CoinJanitor's CEO, Marc Kenigsberg competed fiercely for.
The ICO Battle
The setting was not easy. Other ICOs were competing as fiercely to convince the judges that theirs was the best project in the room, and with another 73 projects to compete against, coming out on top was a challenge. ICOs had to go through various rounds of elimination to qualify for the next round the coming day, in which the public present and the ICOs that didn't make the cut the day before, would determine which project was going to make it out of the round of 8.
Marc saw CoinJanitor through to the final round of 8, through a spectacular pitch on the stage. CoinJanitor has its merits not only as a unique and truly innovative project, but also as one that is ready for deployment immediately. Marc made both points clear and the audience quickly warmed up to the idea. The battle would just intensify further on the second day of the summit, with the round of 8 quickly approaching.
2% Short
During the second day of this incredible battle, Marc came out strong. CoinJanitor is a strong project with a stellar team, but it is also the first project of its kind in this space. That is probably the reason why it fell just short of making the final 4, although it enjoyed extensive support from within the audience. In the end the difference between the project ranked 4th and CoinJanitor was a mere 2% of the vote.
Ranked 5th Overall, CoinJanitor Aims to Change Cryptocurrency Markets for Ever
Nevertheless, there is a lot of merit in being ranked 5th of 74. There are 69 other excellent projects out there that CoinJanitor surpassed, which is an honor for its team and a great achievement for Marc who gave everything in an attempt to convey just how important it is to take care of the space by recycling the value that dead coins are locking in. This revolutionary idea is bold, and it has the potential to change the space dramatically. Now Marc and the team are focused on the next battle: bringing in a huge win with a great raise, so they can start focusing on changing cryptocurrency markets one dead coin at a time.
Watch the first Round: