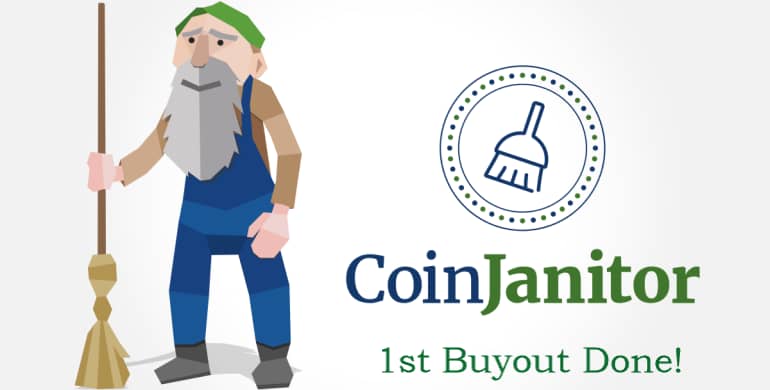 Mission Accomplished: Globycoin Is CoinJanitor's First Buyout
After numerous conversations with a myriad of developers, and countless messages going back and forth over different media, CoinJanitor managed to complete its first buy out. Globycoin, a project that focused on delivering an environmentally friendly coin that was based on master nodes and PoS, is the first project that CoinJanitor has acquired.
If you're a Globycoin holder and want to claim your JAN tokens or find out more info please contact us at support(@)coinjanitor.io
A Difficult Path Towards Success
Finding Globycoin and finalizing the buyout details was not easy. First of all, Globycoin's features deviated somewhat from those of the coins we were initially looking to buy. Then, we had to deal with the actual negotiation, in which one of the members of our budding community played a key role in establishing a channel of communication with Globycoin, helping us bridge all the gaps necessary for the buyout.
It all worked out favorably for everyone involved, so we would also like to thank Globycoin developers and our mediator for their work, their honesty and their positive attitude throughout the process. We wish to replicate this model and gather momentum in our buyout processes based on the success of this deal. We know the path we chose is a difficult one, but we are convinced of the value we will be able to deliver to the larger community of crypto enthusiasts in general and to our own CoinJanitor community in particular.. You can see the Globycoin.org project here.
Welcoming Globycoin Holders Into the CoinJanitor Community
We will be working hard during the following weeks to integrate Globycoin holders to the CoinJanitor community, keeping in mind their support for environmentally friendly solutions in the space. We hope to carry their banner through our buyouts.
In the meantime, if you are a Globycoin holder, please contact our helpdesk for further instructions on our coin swaps. You will be able to get all the critical information from our staff, including critical swap dates, swap methodology and exchange rates.
A Message for the Market and the CoinJanitor Community
There are many lessons that we will learn through the coin swap process. We will study them thoroughly to keep improving our methodology. Above all, we hope that this first buyout serves to deliver a message to the market in general and to the CoinJanitor community in particular. We are here working hard on an unprecedented solution to the problem of deadcoins in the space. As much as we are learning as we go, we now have proof that our concept works.
The patience of our community members will continue to pay off, but we do not take it for granted. We want to thank all our supporters once again for sticking with us and allowing us to prove that CoinJanitor is a viable solution to recycle value that is trapped in deadcoins. Thanks to your patience we will be able to emerge as the default mechanism to deal with deadcoins in the space.