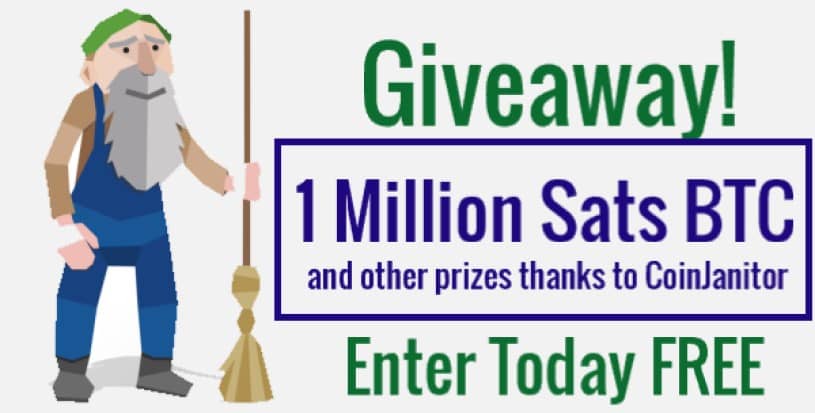 CoinJanitor's giveaway is now live! We are celebrating our second year in the market and all the success we've had, with a multiple-prize raffle. We will be giving out 3 prizes including 1 million satoshis worth of Bitcoin absolutely free. Enter below with your email now:
Win 1 Million Sats in BTC!
We're giving away 1M Satoshis to a lucky winner plus prizes to runners up! Enter your email address to be in the running
Giveaway Prizes
Here are our giveaway prizes:
First prize: 1 million Sats. Yes, that is FREE BTC for you to hodl or do with it whatever you please!
Second prize: 2,000 JAN tokens
Third prize: 1,000 JAN tokens
Bitcoin Giveaway Rules
Only people 18 and older are allowed to participate in the giveaway
There are no country restrictions
You have until August 31st, 2020, to subscribe to our mailing list to participate
Only after you subscribed you will be able to get more giveaway entries through the activities mentioned above
Winners of the CoinJanitor giveaway will be announced on September 8th, 2020
This giveaway is also available for those who are already subscribed to our mailing list
Get Additional CoinJanitor Giveaway Points!
Once you sign up, you are good to go, but you can earn more entries and increase your chances of winning. You can earn one more entry for sharing this giveaway on social media.
So get going and get winning!
Now it is time to subscribe, get more entries and win with this amazing 2-year CoinJanitor anniversary giveaway!