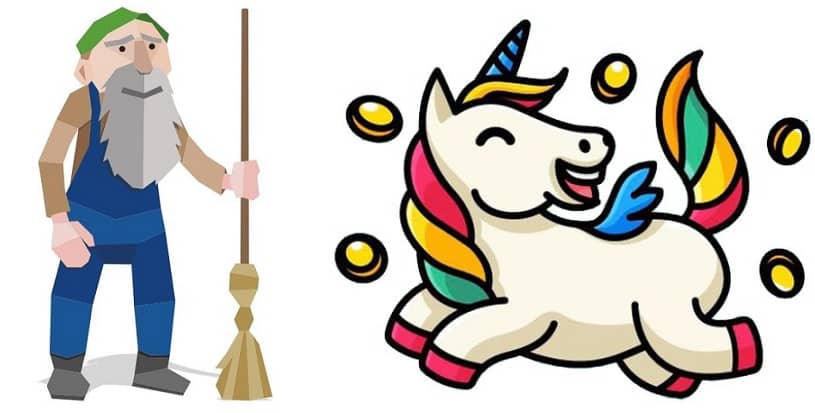 Welcome to a new experiment in deadcoin buyouts. Our fifth overall buyout, Unipot, is a community-driven buyout to onboard as many of its users as possible mainly. This buyout might usher in a new era of deadcoin buyouts.
The Unipot community was looking at how to solve the situation they were left in when their dev abandoned the project and switched all social media channels off except for Telegram. Fortunately, a member of the CoinJanitor community suggested a buyout and we agreed to try the community-driven effort this time.
Community Member Donates Deadcoin Bounty
The same community member who brought Unipot to the table, has donated the deadcoin bounty they are entitled to. This community member has asked us to add the amount to the buyout budget, which is a very generous gesture that shows how important this experiment is to many members of our community.
About Unipot
So, which kind of deadcoin is CoinJanitor buying this time? Here are some basic characteristics of Unipot:
It is an ERC20 with 8 decimals
Total supply is 8,559,776.9979998 UNI
There are 1,647 holders according to Etherscan
The token was supposed to support a lottery with rewards denominated in UNI
Therefore, a significant part of the supply is still in the "Treasury" address
We are making every possible effort to exclude team members from the buyout. So far, we have isolated the top 4 addresses by amount of UNI on Etherscan that hold the token and we have excluded those from the buyout.
Buyout Details
This deadcoin buyout is all about integrating UNI users left, despite the fact that most have expressed their reservations about transactions costs. We hope they see the value in swapping instead of looking just at spot prices, which are little more than just a point on a graph and lack any qualitative information about CoinJanitor.
CoinJanitor to UNI Exchange Rate
We will apply the same method to this swap that we applied to the LENS buyout. The swap deadline is June 30th. After the deadline we will proceed to distribute the buyout budget proportionally among the people who participated in the swap. Here are the conditions and our commitment for this kind of swap:
We will disburse the full amount of the buyout budget to those UNI users who send their UNI to us before June 30th, 2020
The exchange rate will not be known until the swap deadline is over
Swaps after the deadline will not be possible at all. There will be no exceptions
Our swap budget for this project, thanks to the bounty donation by the CoinJanitor community member, will be 65,000 JAN. We will divide that number by the total amount of UNI we receive to that date to calculate the exchange rate and proceed to disburse the funds to UNI holders proportionally.
Instructions For UNI Users Claiming JAN Tokens
If you are a UNI holder, please email us at support(@)coinjanitor.io to begin the swap process.
Please state the following on your email:
How many UNI tokens you have
Which address(es) you hold them in
Which ERC20 address you will like us to send your corresponding JAN to
We will reply with our burn address
Send your UNI tokens to the burn address provided BEFORE THE DEADLINE
Once the deadline passes, we will be able to calculate the exchange rate
We will inform you about it via email and we will transfer the corresponding amount of JAN tokens to the public address you asked us to send the tokens to on your initial contact email
Make sure to include a corresponding ERC20 address for which you control the private keys to complete the swap.
Note: Only SouthXchange, Token.Store, Unnamed Exchange and Resfinex support CoinJanitor tokens. Failure to provide a corresponding ERC20 address for which you control the private keys may result in the loss of your JAN tokens.
UNI Buyout Deadline
Remember, if you are a UNI holder, you have until June 30th, 2020 to complete steps 1 through 5 (see above).
UNI Holders: Welcome to CoinJanitor!
To all the members of the UNI community, we welcome you to CoinJanitor. We hope you find our project useful and valuable. We invite you to use all the resources that other CoinJanitor members are already enjoying. There are multiple benefits of joining our budding community, and we are looking forward to hearing from you.
If you're new to the CoinJanitor project here is a short explanation of what CoinJanitor does: