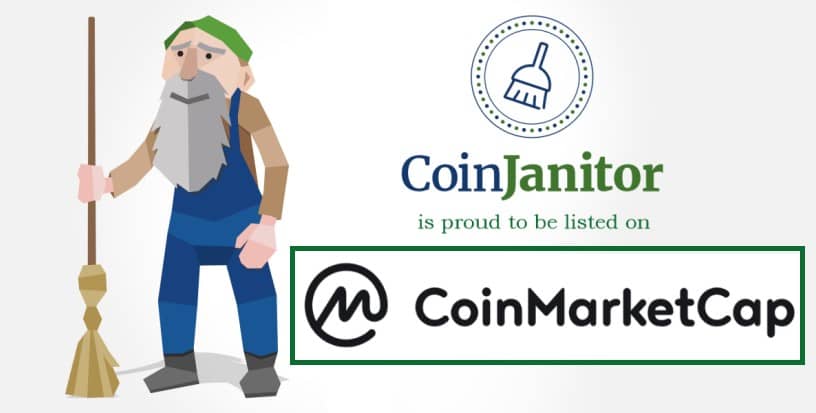 Although it might not seem like it, the past couple of months have been quite eventful. While nothing substantial has panned out on the buyout front yet – we do have a few leads we are working on – we took advantage of the downtime to do some housekeeping. Here are the exciting updates we have to share with you from the work we have done during February and March.
CoinJanitor is Now on CoinMarketCap – CMC
Our first great piece of news is that we are now listed on Coinmarketcap – CMC. This is probably one of the biggest achievements we had while taking care of internal tasks. We would like to thank the members of the community who helped us get there as well, because without them CMC wouldn't have been possible.
Here is a link to CoinJanitor's profile on CMC . There is no doubt that being on CMC will raise the profile of our project and it will raise awareness about the need to have a mechanism to recycle deadcoins. test
CoinJanitor will be Verified on Etherscan
Another great update we have the help we got from some of our community members, is that CoinJanitor will be verified on Etherscan. We submitted all the necessary documentation and provided all the additional information that we were asked for, including an email confirming that all the information we gave them is true and reliable.
Our token submission should be verified soon. Keep an eye on Etherscan over the next few days to see all the relevant information going live.
CoinJanitor Giveaway is Ready!
Our third announcement is that our giveaway is ready. We will be launching it soon and you will get a chance to sign up for it. There will be great prizes for the winners, so we hope this will raise awareness about the project and about our mission to unlock value in deadcoins while reducing the dilution in the market.
We Now Have a Discord Channel!
The fourth update has to do with your ability to reach us, get instant updates and stay in touch with the community. We have opened our very own CoinJanitor Discord channel. Join us there and get the latest updates on Discord!
Community-Led Initiative
Apart from these exciting news, there will be a community-led initiative to launch a service. This service will be completely denominated in JAN tokens, giving our token another use case that comes from a grassroots effort. Once the service is ready, we will make a full announcement. For now, we can say it is a clean-up service and that it shows how impressive our community is.
We can't thank you all enough for your support and your drive to help us succeed!