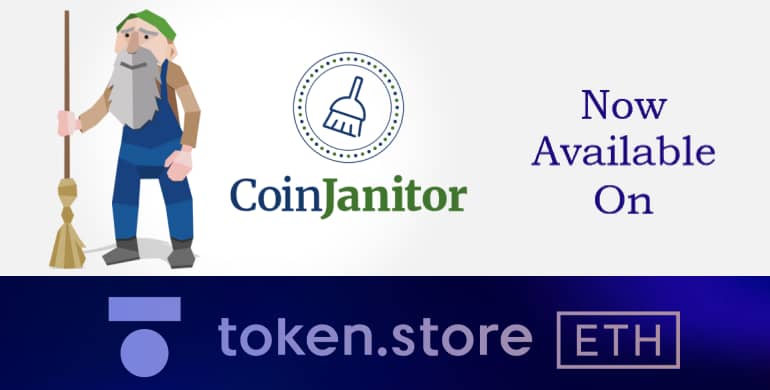 In an effort to find additional markets for a growing community, CoinJanitor's team sought to list JAN on Token Store. This exchange is one of the biggest decentralized exchanges in the space, allowing people to trade with all the advantages a DEX offers. CoinJanitor has always believed in the advantages of decentralized exchanges, so the team is proud to offer this option to the community.
Advantages of Trading JAN on Token Store
Token Store will allow CoinJanitor community members and other traders who are interested in the token, to trade the ETH:JAN pair on one of the most well-known decentralized exchanges in the space. Users who are interested in CoinJanitor will also enjoy the following advantages when they trade on Token Store:
Automatic access to the market once users create a new Ethereum wallet or integrate one.
The possibility of trading using a MetaMask or MEW wallet on the platform.
Instant trading without the need for a login or an account tied to an email account.
Top-notch UX on a platform that allows users to control their own private keys.
How to Trade $JAN on Token Store?
Users can start trading JAN on Token Store.
To do so they just need to follow this link on the browser of their choice on a secure connection, and either integrate a MetaMask or MEW account, or create a new account on Token Store. Users must keep in mind that if they choose to create a new account instead of integrating one, the private keys will be stored in the browser's cache. Anyone creating a new account on Token Store should write that private key on a piece of paper and keep it in a safe place because if they flush their browser cache, they will lose access to that account. Token Store does not have a copy of those private keys.
CoinJanitor Will Continue to Look for More Markets
After adding JAN to Token Store, CoinJanitor's token can now be traded in 4 different markets. Although the team will continue to look for additional markets, adding the Token Store option puts the project in great position to continue growing and buying deadcoins out.